Looking for a specific flavor? Try our Search Bar! Just type in the flavor you are looking for, hit enter, and add it to your bag!
Only ONE Shipping Address valid per address per order! Orders with Multiple Shipping Addresses must be placed as SEPARATE Orders!
Having Trouble? We are here to help!
For Assistance Ordering or to Order over the Phone, Please Call (815) 201-1155 and follow the prompts for Online Ordering!
Business Hours: 9:00 am - 3:00 pm
Chocolate Chip
00022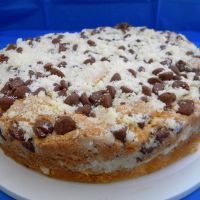 Rich chocolate chips add sweet bursts of flavor to our nice and tender coffee cake. Get together tonight with family, friends, and Dave's Coffee Cake.
~ To ensure quality upon delivery, the Boston Cream Line is temporarily unavailable online! We hope to make them available again soon!
*In the meantime, you can find Boston Cream Cakes at any events or for pick-up in Rock Falls, IL!*
Thank you for your understanding! ~